The Importance and challenges of Quality Managment
I

nterview with Hans-Joachim Mertens & Florian Euteneier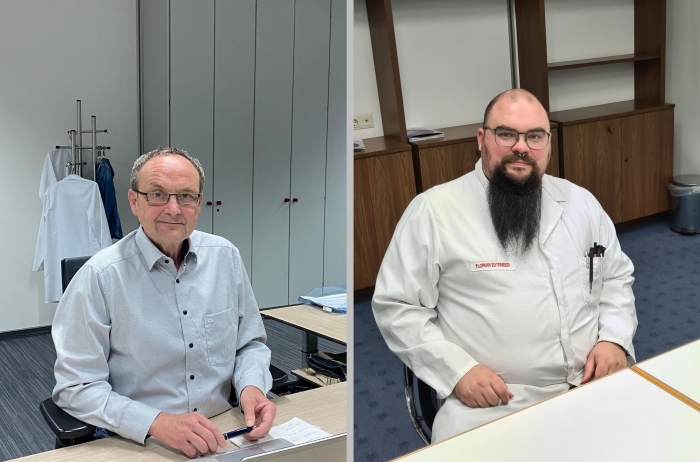 From the left: Hans-Joachim Mertens has been responsible for all topics concerning quality assurance since 1990. He started his career at RoodMicrotec in 1981 and this year celebrated his 40th anniversary. 
Since 2013, Florian Euteneier has been working as service engineer at RoodMicrotec. He is currently acquiring further qualifications within the company to join the quality management. 
1. What is quality management about?
Our job is to organize and support all measures leading to the improvement of product
and service quality as well as to avoid problems in the value chain, rather than fixing them and to identify, name and minimize risks. 
2. What are the benefits of QM?
On one hand QM increases the transparency of operational processes in order to improve employee and customer satisfaction to ensure the success of the company. On the other hand, QM promotes a uniform understanding of quality and quality culture in the company.
3. Why is quality management so important for a service provider like RM? 
Our "product" is a service to our customers' products, i.e. each individual contribution directly influences the product and thus the success of our customers. We also increase the benefits for our customers, employees and partners/investors through innovative products/processes. Furthermore, we support our customers in the successful "marketing" of their innovative, safety-relevant (technology "driven") products. Quality awareness is  a competitive advantage. 


4. What does your daily work look like?
Our work consists of a wide range of tasks, i.e. employees and customer pitches, project management, quality planning/assurance as well as the control of quality gates, consulting and promoting of employees and complaint management. 
5. What problems do you encounter in your daily QM work?
Hectic pace of everyday life, fast pace of life in general.


6. To which standards is RoodMicrotec accredited and certified?
 - ISO9001 Quality Management System
 - VDA 6.2 Quality Management System - Services -
 - ISO17025 General requirements for the competence of testing and calibration laboratories
7. Florian, why do you want to join the quality management (QM) department? 
    What do you like about it?
 
I first came into direct contact with quality management during a training course in 2015 to become a test equipment officer. A certification as a process auditor according to VDA6.3 deepened the connection to QM. I personally see QM as an important staff position through which the future can be shaped and changes can be brought about. I have also always been very interested in the auditor's field of activity and it opens up insights into the processes and functioning of a company.

Even though one deals a lot with errors, the tasks in QM are enormously varied and diverse. I would now like to start a new chapter in my CV, which will open up new challenges and give me the opportunity to shape and develop the company's vision.